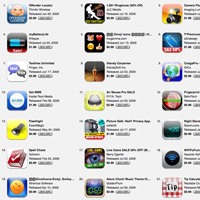 Oh the iPhone… The magical device that makes our lives a little easier and a little more fun. What makes the iPhone so great is the applications available for it. In the words of a friend via Twitter, "Dude, there's an app for that". Quite literally, the iPhone app store has an application for just about everything.
After recently getting setup on the iPhone, the first thing I did was start searching for the best applications for my day to day work as a designer and web developer.
Final Thoughts
These are just a few of the amazing apps available for the iPhone and if you know of a few really good ones for designers and developers, please share them in the comments below!
I practically live on the computer but the iPhone makes it just about possible to spend every moment you're awake, on the computer. Don't forget to take some time every now and then to escape from technology and enjoy things like the sun, your friends and you know, life!