While quality is the key factor in how well a theme will sell, there are many techniques and tips one can follow to help increase the chance of a sale. Taking a little time to promote your work and your themes is sure to be reflected in your number of sales. Today, we will go over 12 creative ways to promote your ThemeForest themes.
1. Use custom fields on your WordPress blog.
This technique is sort of a more controlled variation of having adsense ads injected into the end of all your blog posts. Instead, we can use WordPress custom fields and decide whether or not we want to display or ThemeForest banner (or image of your theme) and where we want to display it. The code will resemble something similar to the below.
More Resources
2. Run a contest and give away one free copy of the theme.
You'll need to check with the ThemeForest staff before going through with this, but you'll find they are quite easy to work with and I know many members have run a contest for one of their themes, including Tutorial 9. Tell your readers that all they need to do is register at the forest (use your referral link!) and then comment with their username. You can then draw a random winner and promote your theme to a wide audience. Get creative with your own contest and you'll be surprised how many will participate for a shot at something free.
3. Show off those themes on your website!
Speaking of running a contest on your blog or website, how about writing a post promoting your newest or best selling theme? There's no shame in promoting yourself once in a while, after all it is your website. Use a lot of screenshots and list all of the features like you would on ThemeForest. Make sure any links you point to it use your referral link. Which takes me to number four…
4. Use your referral links when linking to your theme.
Many of you are involved in the referral program, which is offering 50% commission on any deposits right now. The referral links always end in the same format, mine for example looks like this.
http://themeforest.net?ref=CreatingDrew
You can add the referral part of the url onto any item url you have. So if your linking to one of your ThemeForest themes, be sure to add on the ?ref=Username on the end!
5. Give away any rejected themes for free.
Rejection is hard and it stinks. But I am sure I am not the only one who has had quite a few designs rejected during my time on the forest. Truth is, there is no shame in this. It gives you a chance to grow, better your skills, and get feedback from the reviewers. That's all great, but it also allows you to give away your themes for free! Why is this great? Because people absolutely love free stuff, and will be very grateful. Offering free themes on your blog will bring a surprising amount of traffic to your site, and over time you will become a well known persona in the "theme world". People will know where to come for some awesome themes, free and premium.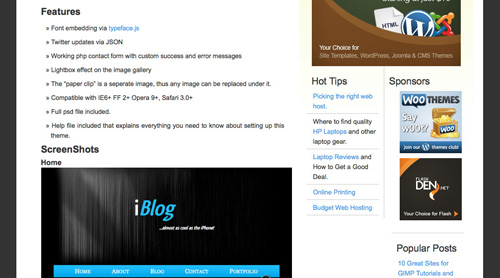 6. Link to your themes in the items description section.
Next time you upload a theme and are preparing the theme description, take some time to build some nice looking thumbnails of your other themes and link to them. If you take a peek at some of the files at FlashDen, you'll notice quite a lot of users using this technique. With over 105,000 members and growing, promoting your other themes in the description can bring a lot of traffic and sales to your items.
7. Brand yourself on your thumbnails.
I see a lot of ThemeForest users getting really creative with their thumbnails and its awesome. The key to branding yourself is to stay consistent and familiar. Take some time to sketch out a few ideas be it on paper or on your favorite program. Once you find something you feel works, keep using this style for every theme you create. You can mix it up and get creative with it, perhaps by creating a slightly different version or color for WordPress themes over regular themes. Below, I've taken some screenshots of some users with excellent ideas for thumbnails.
8. Provide great support and reap the benefits.
I would argue that most of the authors here provide excellent support, much more so than they are ever expected to provide. If you provide your customers with outstanding support it accomplishes many things. One, it increases the chance of them giving your file a high rating, increasing your chance of sales. Secondly, if a buyer knows he can depend on your for support and help with a theme, they are more likely to come back to your themes. Next time you get a support question, provide them with amazing support, and don't be afraid to ask that they rate your file if they enjoyed your support.
9. Create help screencasts.
Tying in with number eight is our next tip. Every time I get a theme ready to be uploaded, I take 5-10 minutes to create a quick screencast that thanks the user and walks them through their new theme. Keep in mind a lot of buyers are completely foreign to web development and coding, show them how to install the theme and get started. Again, provide great support and reap the benefits. The screencasts don't take long to make, and there are plenty of free software choices out there to get the job done. Below, I've listed a few free software programs for creating your own help screencasts.
10. Use your profile description to your advantage.
Once you log in, if you click on account and then edit, you are able to edit your personal information displayed to the users. You also can (and should) upload a/an account image which you can use to create a visual impact on the visitor. Be sure to link to your portfolio and/or some of your best ThemeForest items in your profile description. Its also okay to link to any websites or blogs you may run in this section as well. This is your chance to promote yourself so take full advantage!
11. Upgrade and improve your existing themes.
When you get the chance, put some time aside and add some extra features or improvements to one of your existing themes. Once your done, write about it, tweet about it, add the update to your description etc. Improving your themes increases the chances of someone purchasing it, in addition, the previous purchasers really feel like they are getting their moneys worth and are more likely to come back for more.
12. Solve someone's problem with your theme.
Collis wrote an excellent article a while back which gave tips for increasing your income by selling stock. His very first tip in the article was to solve someones problem. Judging by the success of Collis and his company, this is sound and wise advice. If your looking for an example, I have seen quite a few users on the forum asking where the e-commerce themes are. I've also seen people asking for help integrating some sort of e-commerce system into their theme. Sounds like an awesome e-commerce theme might be the next big theme on ThemeForest. Lurk around the forums to get an idea of what users are looking for, or better yet, start your own thread and find out what it is people are looking for. If you are able to solve someones problem, you are sure to be successful on ThemeForest.
That's it for now, there are plenty of other techniques and tips to use to promote your themes. In the end, quality is of the utmost importance. If you have any tips or suggestions please share them with us in the comments section. Happy coding and holidays!