It's nearly the weekend, so we thought it would be nice to relax and enjoy some of the amazing themes that can be found here at The Forest. Out of all of the different template categories available, some of the most popular have been the portfolio templates. These templates are fantastic as they allow anyone to showcase their work and what they do without having to spend an enormous amount of time developing the portfolio itself. Below you will find a list of 10 absolutely stunning portfolio templates found on ThemeForest.
Fusion
First up is a very sleek and modern design by fellow member Onuro. Fusion offers not only a very visually appealing design but functional features as well. It functions as a one page portfolio, and is enhanced with the use of some nice jQuery effects. The accordion and scrolling portfolio images are also a huge bonus!
Briefcase Portfolio Theme
Briefcase Portfolio Theme is a wonderfully fun and and bold theme built by ThemeForest member Maximus. With 4 colors options available via the Wordpress admin panel and the ability to post a project in the featured section, this theme is one of the most functional portfolio themes found on The Forest.
Ultimate Animated Portfolio Template
Firstly, how awesome is the title of this portfolio template? Built and brought to us by the team at OXYLUSDESIGN, the Ultimate Animate Portfolio comes with 2 different skins to choose from, smooth scrolling navigation, a working php contact form, and even a really nice use of sIFR that falls back on regular HTML and CSS fonts if flash is not available. All of the above makes this a winning portfolio template.
YourFolio
Next we have the highest selling Wordpress portfolio on ThemeForest with a current total of 310 sales! Maximus has brought us another amazing wordpress template with a super clean design and fresh feel. The theme comes with a total of 5 different color options for maximum compatibility. Wordpress is utilized to its fullest extent by displaying a static portfolio as well as your recent blog posts on your index page.
One Page Portfolio Template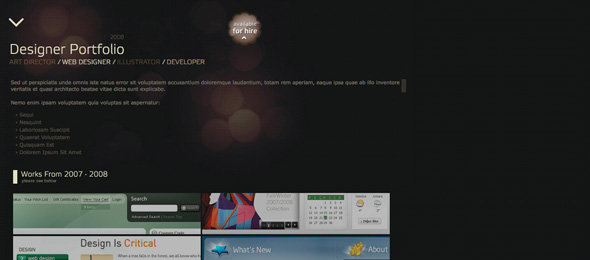 Super slick and pleasantly dark, the One Page Portfolio template by Onuro is one of beauty and function. I imagine this theme is especially suited to photographers as the current design seems to reflect this. All portfolio items are powered with nice Javascript effects and the template also includes a nice form mailer for you to use any way you wish.
Reflect Portfolio Template
One of the master ThemeForest authors, Kriesi, developed this beautifully slick and very animated portfolio template. This template also recently one an award for the HTML Site Template contest that was run. Just have a look at all of these features:Image tooltips that align next to the mouse cursor, bouncing/fading Header for portfolio/punchlines/whatever, lavalamp menu, improved with jQuery, jQuery 100% unobtrusive wich degrades gracefully if javascript is turned off, gallery Page with lightbox, and a working ajax/php contact form. Need I say anymore?
Beatbox-Animate jQuery Audio Portfolio
If you happen to be a musician or someone who works with a lot of audio, then this portfolio is certainly for you. Not only does it allow you to showcase all of your latest audio, but its got some sweet speakers to go along with it. The main section uses some nice jQuery sliding effects and additional pages are optional and can be easily added. Built and developed by Flips.
Amazing Portfolio
You have to love the confidence and naming of this portfolio, and it has some awesome features to back it up! Fellow ThemeForest member Kuimu designed and developed this theme. Some features include a working lightbox gallery, three different browsing grids for the portfolio, and a working contact form. It's no wonder it is one of the highest selling portfolios to date!
Steelfolio
Steelfolio is a perfect name for this particular portfolio, with its' large and fresh fonts and large clean icons. Steelfolio was thought up and created by Koroshiya and includes 5 color options, lightbox support, bluetrip css framework, a jQuery slider showcase, and a working contact form. All of the effort seems to have paid off as it is now a very popular portfolio on ThemeForest.
The Sky is the Limit
When I first came across 'The Sky is the Limit' designed by Jordan Payne, I was struck by the freshness and vector feel to the design. Secondly, I noticed that the typography was very well done and creative, it fits the portfolio perfectly. Jordan took the working and simple approach, minimal clutter, proper markup, and a beautiful design. In my opinion, this is one of the most under rated portfolios on ThemeForest.
Find More!
This list comes nowhere close to showcasing all of the amazing portfolios and site templates we have here on ThemeForest. If you are looking to find more portfolios and templates, I have noted some links below for you to enjoy.
A Quick Note
Please keep in mind that the showcased portfolios above and the reviews given are only my opinion. There are so many fantastic templates and portfolio themes on this site, it was very hard to narrow it down to just ten. I really wish I could have included all of your portfolio templates as there is just so much talent here at ThemeForest. Thanks for your understanding.